Prague: August 2017
Last summer I was so lucky to have a chance to spend two months in Europe. Of the twenty plus cities I visited, Prague stood out as one of my absolute favorites. From the sunrise walks on Charles Bridge to the nostalgic homestyle dinners in Old Town; it was truly a lovely experience. The people were great and so was the transportation (which makes more of a difference for a traveler than I ever would have imagined). Below are a few of my absolute highlights.
Prague Castle
One of the most interesting culture hotspots in Prague is just a few miles from Old Town Square and Charles Bridge - it's Prague Castle. Yes, it is a bit of a trek, but I highly recommend walking from your other downtown activities to really get an idea of the city. Wandering European cities is one of the most mesmerizing experiences and Prague is full of nooks and crannies worth ~czech~ing out (yes, yes I did say that). As for the castle, from the first moment of walking up, the stairs are lined with musicians playing genres all across the board. From the classic cute boy with a guitar to a ventriloquist woman with singing puppets, something will surely catch your eye. Once stepping into the castle, there is such a beautiful variety of architecture. St. Vitus Cathedral is surely the star of the scene, the Basilica of St. George offers quite a unique view compared to what you'll find in any other European city, and the gardens that surround the grounds are positively gorgeous. Prague Castle offers a true palette of options for all walks of traveler.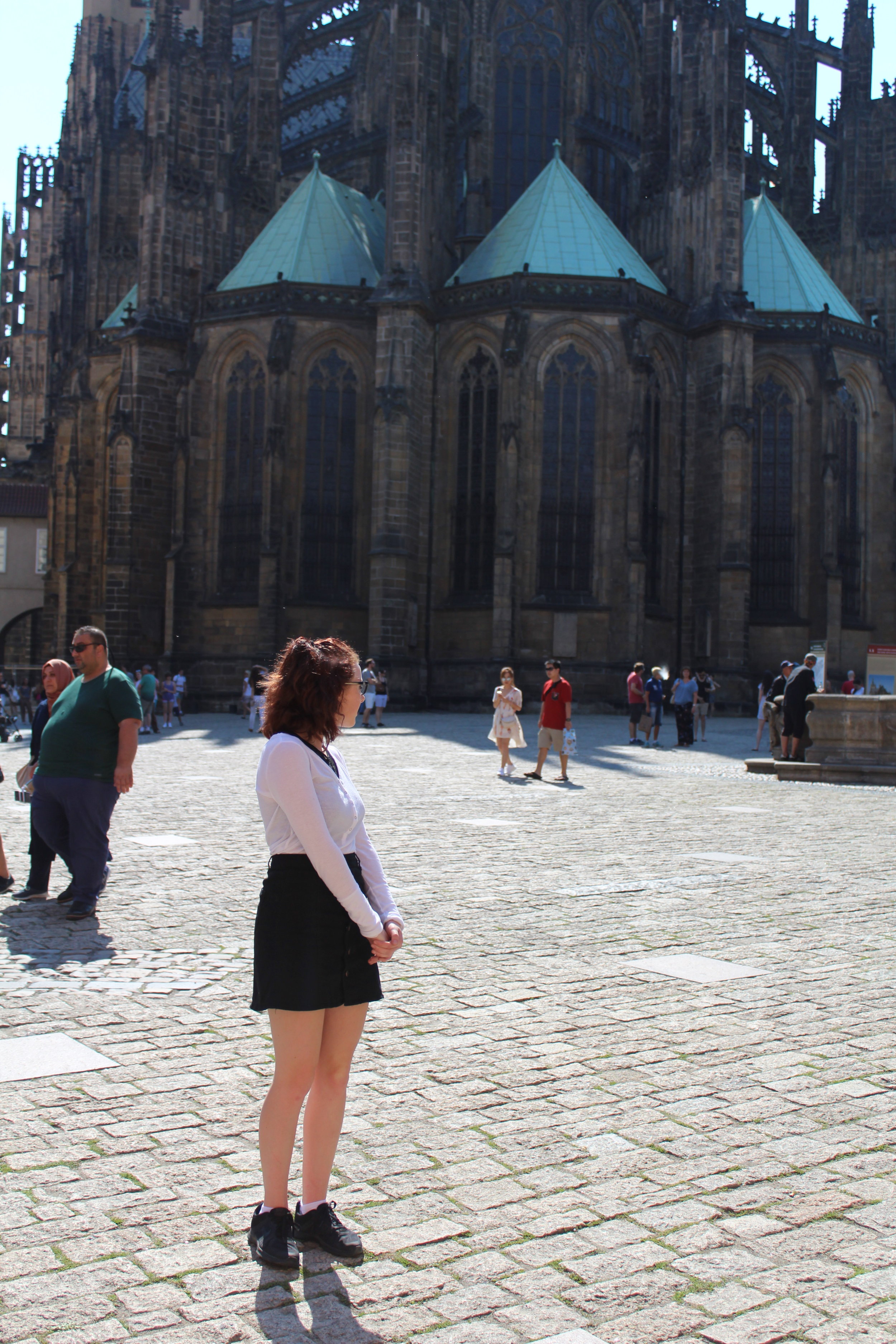 Lennon Wall
The Lennon Wall has lasted since the '80s when Prague was behind the Iron Curtain. At the time, most forms of communication to the western world were cut off as part of maintaining sharp control over the ideas shared throughout the regime. However, when John Lennon was shot, rebels painted what is now Lennon Wall with the message. Though the message was quickly covered with the paint the next morning, day after day rebels would risk everything to spread news from the west. The wall remains a beacon of art to this day, a living document in its own right. Anyone is welcome to paint on the wall, I was no exception. Going to this wall and adding your own two cents is a must when visiting the city, especially when the wall is just around the corner from the west side of Charles Bridge.
Yes, you caught me. This isn't a location but it is most definitely an experience. And at 29 Koruna (about $1.40 USD) it's a deal you honestly can not pass up. Czechia has a long history of beer and they darn well know what they are doing. In fact, in 1842 the Czech City, Pilsen, created the first ever Pilsner Beer. Pilsners are a type of pale lager that can appease any beer craving. Pair it with a hearty Czech meal and you are set for a truly idyllic afternoon. As far as finding the perfect restaurant? I suggest making meal-time into an opportunity to wander one of Europe's most beautiful city streets until you stumble across a place that speaks to you. In the week I was there, I never came across a meal I didn't adore and the moments I spent wandering are among my favorite travel times yet.